Articles
Can Houston tunnel its way to flood protection?
December 25, 2019
The Solution of Conveyance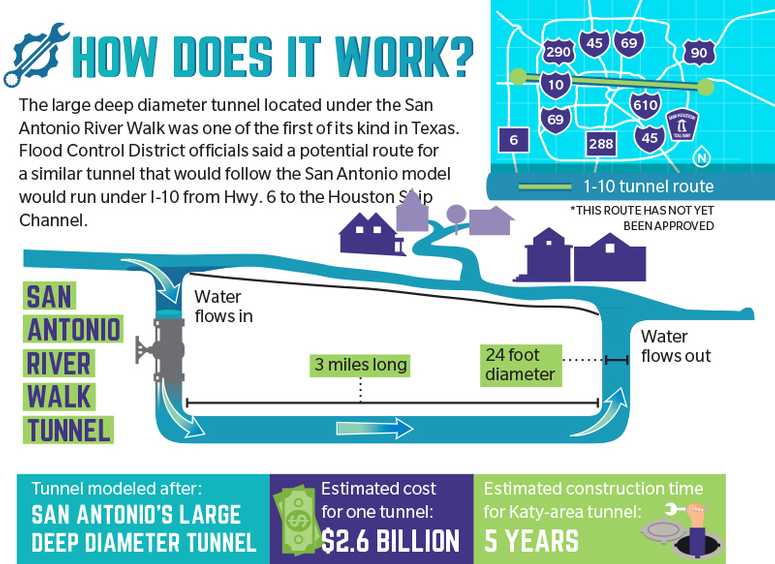 Potential Route of I-10 tunnel modeled after the San Antonio River Walk Tunnel
Harris County Flood Control District Considering Flood Tunnel
Alan Black and Matt Zeve from HCFCD have both stated the flood tunnel project is a solution the district is very interested in. Brian Gettinger from Black and Veatch gave Barker Flood Prevention leaders more details about the project this week. The tunnel would provide around 8,000-10,000 cfs conveyance out of the reservoir. Combine that amount with the 4,000 cfs that Buffalo Bayou can convey, and you have the approximate release rate of 14,000 cfs during Harvey - but with no flooding.
The cost has been estimated at roughly $2BB-$3BB. Construction of the tunnel after studies and right of way acquisition could take as little as 5-7 years if multiple points along the tunnel were dug out simultaneously with 2-4 miles of channel being bored per year per machine.
How does a flood tunnel boring machine work?
Projects Approved
Upstream Barker Reservoir Projects Approved by Harris County Commissioners Court on Tuesday, August 28th!
16 initial projects throughout Harris County were given the green light to begin. $30MM has been allocated for approximately 20 miles of channel repair upstream of Barker Reservoir to restore conveyance to original capacity. Commissioners Court approved 20 additional personnel for Harris County Flood Control District to hire to accommodate the increased workload as well as a grant application for a $400,000 feasibility study for a flood tunnel project.